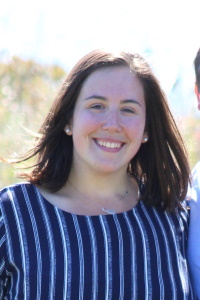 Kelsey Robinson - Director
Contact: director@healthylincolncounty.org
Kelsey Robinson, a Lincoln County native has returned to her hometown as the Director of Healthy Lincoln County. Robinson grew up in Damariscotta and attended Great Salt Bay School and Lincoln Academy. She then went on to Providence College to study biology after which she returned to Maine and attended the University of New England where she received her degree in Medical Biology. After graduating from UNE in 2015, Kelsey once again returned to Damariscotta where she worked full time at Mobius, Inc. while pursuing graduate school opportunities. In 2016, she enrolled in the Master of Public Health program at the George Washington University and received her degree in 2018.
Kelsey first connected with Healthy Lincoln County in 2017 when she was looking for a public health practicum experience to fulfill her graduate school requirements. Shortly after, she joined MCD Public Health full time, working on programs at Healthy Lincoln County and on other public health initiatives related to chronic disease prevention and employee wellness. Robinson is excited to be working in the community that raised her.
Kelsey resides in Friendship with her husband Scotty, and children, Indy, Rosie, and Nolan. She enjoys traveling, reading, baking, and playing disc golf with her family.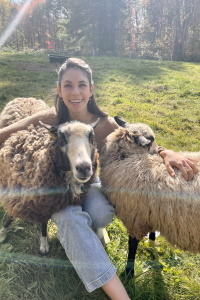 Larissa Hannan - Nutrition Educator
Contact: nutrition@healthylincolncounty.org
Larissa Hannan is Lincoln County's Supplemental Nutrition Assistance Program- Educator (SNAP-Ed). Larissa actually joined the HLC team in March of 2021 as the Substance Use Prevention Coordinator. Her background, however, is in nutrition and chronic disease prevention and she is looking forward to getting back to working with the community as it relates to food education! Previously, Larissa's background focused on chronic disease management and evidence-based programming related to diabetes prevention.
Larissa graduated from the University of Maine at Farmington with a Bachelor's of Science in Community Health Education in 2017. Since that time, Larissa has gone on to become a Master's in Public Health candidate through the University of Southern Maine. Larissa is a Certified Health Education Specialist (CHES) and Provisional Prevention Specialist (PPS).
A Whitefield resident, Larissa spends most of her free time on a farm of her own where she tends to her sheep, chickens, pigs and gardens. When away from home, you can most likely find Larissa hiking or backpacking across mountain ranges in New England!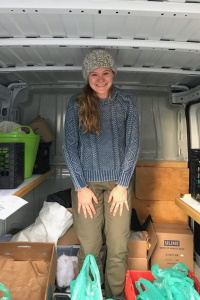 Jess Breithaupt - Food Security Community Connector
Contact: jbreithaupt@healthylincolncounty.org
Jess Breithaupt is the Food Security Community Connector for Lincoln County. Through this work she connects community partners with food resources, works directly with food pantries and other groups focusing on food insecurity, and helps coordinate the charitable food system in Lincoln County. Previously, Jess coordinated the Lincoln County Food Initiative (LCFI), and worked with many community partners to increase emergency food access in 2020. Making healthy food accessible for everyone, while also reducing food waste, is a passion of hers. Like most Mainers, she grew up in a family that didn't want to let anything go to waste, and she's picked up some creative tips along the way that she's eager to share.
Jess lives in Damariscotta with her partner Tyler, 14-year-old son Abe, and their rambunctious dog Molly. Outside of attending her son's sports events, or walking her very high energy dog, she can be found cooking, gardening, or playing music with her family.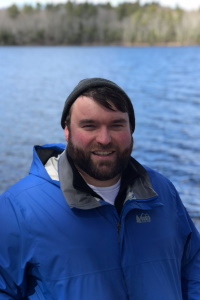 Will Matteson - Substance Use Prevention Coordinator
Contact: wmatteson@healthylincolncounty.org
Will Matteson is Healthy Lincoln County's Substance Use Prevention Coordinator. Will grew up in Massachusetts but got to Maine as quickly as he could. After studying English at Kenyon College, Will moved to Bar Harbor and began working as a manager for the Acadia Corporation, which operated several concessions in and around Acadia National Park. This work was interesting and rewarding, but Will often thought of finding work that more had a more direct positive impact on his community. During his career in hospitality, Will saw the damage that substance use disorders can cause to both individuals and communities. When the opportunity came to do community health work in Lincoln County, he took it.
Will lives in Thomaston with his wife Mary and their dog Sophie. He loves writing, reading, and learning as much as he can about the world he lives in. When he's not at work or home, Will is likely to be hiking or camping somewhere in Maine's glorious wilderness.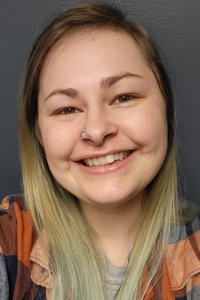 Amy Bedard - Program Assistant
Contact: abedard@healthylincolncounty.org
Amy Bedard is Healthy Lincoln County's Program Assistant supporting the substance use prevention and food insecurity programs. Amy grew up in Aroostook County then attended Thomas College in Waterville studying psychology, and has a passion for community work and mental health wellness. Amy started her mental health career as a crisis counselor in Central Maine, then moved on to community case management in the Portland area. After working in case management Amy worked as a Benefits Specialist for Unum in Portland; during this time she often missed working closely with people, and is excited to help Healthy Lincoln County reach out to the community and help provide resources to those throughout the county.
Amy lives in Bath with her husband, Adam, and their three cats, Puzzles, Peaches and Daisy. When Amy is not working she enjoys arts and crafts, hiking, and taking trips to the County to visit friends and family.