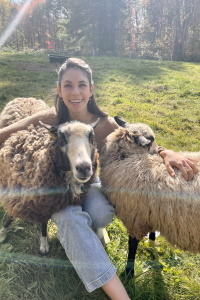 Larissa Hannan - Director
Contact: director@healthylincolncounty.org
Larissa Hannan is Lincoln County's Director. Larissa actually joined the HLC team in March of 2021 as the Substance Use Prevention Coordinator. Her background, however, is in nutrition and chronic disease prevention and she is looking forward to getting back to working with the community as it relates to food education! Previously, Larissa's background focused on chronic disease management and evidence-based programming related to diabetes prevention.
Larissa graduated from the University of Maine at Farmington with a Bachelor's of Science in Community Health Education in 2017. Since that time, Larissa has gone on to become a Master's in Public Health candidate through the University of Southern Maine. Larissa is a Certified Health Education Specialist (CHES) and Provisional Prevention Specialist (PPS).
A Whitefield resident, Larissa spends most of her free time on a farm of her own where she tends to her sheep, chickens, pigs and gardens. When away from home, you can most likely find Larissa hiking or backpacking across mountain ranges in New England!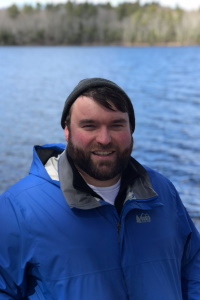 Will Matteson - Substance Use Prevention Coordinator
Contact: wmatteson@healthylincolncounty.org
Will Matteson is Healthy Lincoln County's Substance Use Prevention Coordinator. Will grew up in Massachusetts but got to Maine as quickly as he could. After studying English at Kenyon College, Will moved to Bar Harbor and began working as a manager for the Acadia Corporation, which operated several concessions in and around Acadia National Park. This work was interesting and rewarding, but Will often thought of finding work that more had a more direct positive impact on his community. During his career in hospitality, Will saw the damage that substance use disorders can cause to both individuals and communities. When the opportunity came to do community health work in Lincoln County, he took it.
Will lives in Thomaston with his wife Mary and their dog Sophie. He loves writing, reading, and learning as much as he can about the world he lives in. When he's not at work or home, Will is likely to be hiking or camping somewhere in Maine's glorious wilderness.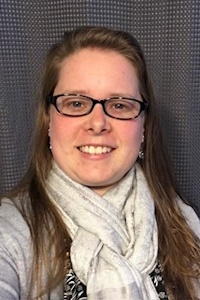 Samantha Mehlhorn - SNAP Educator
Contact: smehlhorn@healthylincolncounty.org
Samantha Mehlhorn is the SNAP Educator for Lincoln County. She is brand new to the HLC team as of August of 2023 but has been a resident of Lincoln County for over 35 years. Samantha briefly left the area to attend Quinnipiac University in Connecticut receiving degrees in Political Science and History as well as her master's in education. She returned to the area to begin teaching in local schools, working with the CLC Adult Education program, and with Mobius Inc. For the past eleven years, Samantha was the head of the middle school at Damariscotta Montessori School in Nobleboro. As a part of this unique program, she taught the full range of the 7th-8th grade curriculum and guided the students in the management of an on-campus farm and CSA program. When at home, Samantha loves to cook and experiment in the kitchen. When many might avoid the weekly task of menu planning and grocery shopping, she looks forward to it and enjoys any excuse to cook for friends and family. The opportunity to work with Healthy Lincoln County and SNAP truly combines the best of these passions. The SNAP programs aim to educate and support students and families to Shop, Cook, and Eat healthy. Samantha looks forward to bringing her love of educating from the classroom to the much wider Lincoln County community through SNAP.
Samantha excitedly bought her first house in Newcastle in 2018 which she shares with her adorable dog, Maddie. Being a new homeowner has provided an endless supply on home projects and she loves tackling a DIY remodel. On a nice day, you will find her out in one of her many gardens tending the flowers and herbs.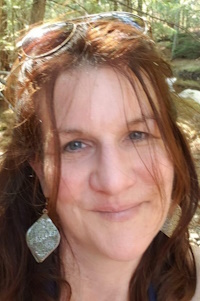 Michaela Stone - Youth Engagement Coordinator
Contact: mstone@healthylincolncounty.org
Michaela Stone is the Youth Engagement Coordinator at HLC, working on both substance use and food security projects. She joined the HLC team in October 2023.
Michaela grew up in Lincoln county, attending local schools, Great Salt Bay & Lincoln Academy. She received her BA in Women's Studies/Criminology from the University of Southern Maine. She has been a Licensed Social Worker for over 17 years. Michaela's array of professional experiences include time as a Head Start Case Manager & Healthy Kids Home Visitor, both in Lincoln County. She was the first Community Navigator in Lincoln county at Boothbay Region Community Resources, building the program from the ground up. In 2017 She attended Trekker's Training Institute in Rockland. With the knowledge from this program, she joined Seeds of Independence and worked with the Brunswick school system to build a mentor program. Her most recent position was covering Lincoln and Sagadahoc counties as a Service Coordinator for Child Development Services. Michaela's role at HLC combines her passion to understand the strengths and needs of her community. and knowledge of area resources and connecting people to them.
When not at work, you will find Michaela in the great outdoors - walking her dogs in the woods or hanging with the many animals on her small hobby farm. She loves to garden, read, listen to music and hangout with her husband and two teenagers.