May 05, 2023
Project Sticker Shock!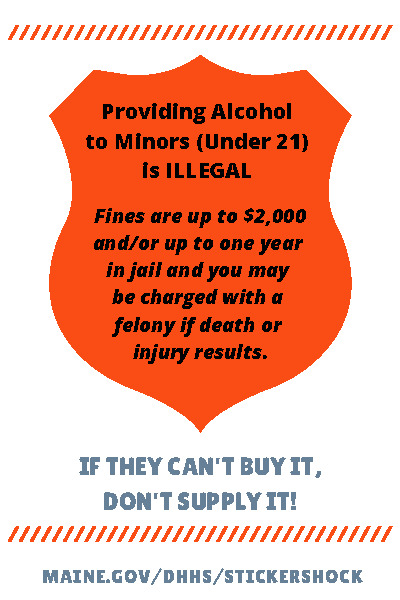 Project Sticker Shock is going County Wide! by Will Matteson

Each year in America, an estimated five thousand young people under the age of 21 die from alcohol related injury and death according to the National Institutes of Health. This number includes both vehicular and non-vehicular accidents, homicides, and suicides. Nine out of ten people who struggle with Alcohol Use Disorder began drinking in their teens. Almost everyone who ends up struggling with Opioid Use Disorder begins with another substance, usually alcohol. Underage drinking is not a trivial problem, but it is a preventable one.

Subtle features in the environment can tell a young person a lot about drinking culture in our country. If alcohol advertisements promising sex and success are plastered all around the neighborhood, children will assume it is a normal part of life. When alcohol is packaged with fun colors and designs and sold in high concentrations it begins to seem like an inevitable part of our ecosystem. But it's not. It's put there by large corporations that seek to profit by selling us a substance that only harms us.

On May 10th, for the third time this semester, students from Lincoln Academy will join with teens from other area high schools to do something about it. Project Sticker Shock is a student-led initiative where students organize what, in the community health field, we call an 'environmental change.' They organize among themselves to perform outreach with local alcohol retailers and law enforcement to plan the event. Then, on the selected day, they work with police officers to go to stores and place informational stickers on alcohol packages. The stickers remind clerks to check I.D.s and purchasers not to provide alcohol to minors. This creates a subtle but effective change in the tone the community sets around alcohol use. It is akin to placing a Surgeon General's warning on a pack of cigarettes, except it comes from the grass roots, from the students themselves.

Lincoln Academy students, under the leadership of CLC YMCA Teen Leader, LA senior Liam Card, have already held two successful Sticker Shocks in 2023. They visited five Damariscotta businesses on February 1st and then partnered with students from Wiscasset Middle High School to cover Newcastle and Wiscasset on April 5th. On May 10th they will round out the season by joining students from Boothbay Region High School and WMHS to pull off the first ever county-wide event.

With prom and summer vacation fast approaching, it is a key time to have clear and direct discussions about the risks of underage alcohol use and driving under the influence. If you're interested in ways to illustrate the conversation around alcohol with the young person in your life, Project Sticker Shock is a great way to bring the ideas into action.