May 02, 2023
Bringing Food Home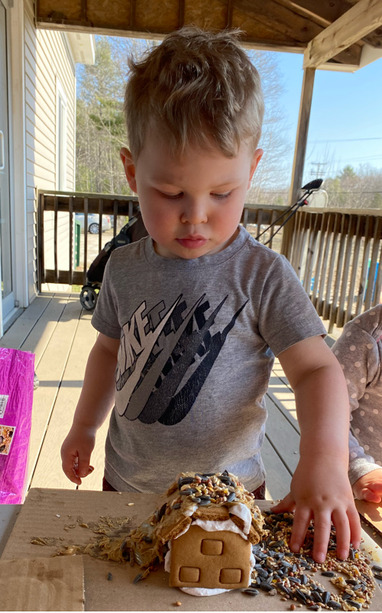 Transforming Donations to Reduce Waste by Jess Breithaupt

We get many different types of donations down at the TVFF Community Food Hub in Damariscotta. Sometimes we get items that are past season and expired, like holiday candy, and we have to put our thinking caps on to find a good use for them. Recently, we received a large number of gingerbread houses from Renys. When I say a "large number", I'm talking over 500 gingerbread house kits, with the frosting and all the fixings. As the many pallets were unloaded from the Renys truck, I stared in awe, wondering what on Earth we were going to do with all these kits.

Luckily, I have a great team that I can bounce ideas off, and I eagerly came back to them with this challenge. The first suggestion was to send them to childcare centers and long-term care facilities as an activity. We liked this idea, but wondered how we could repurpose and rebrand them. Then came the million-dollar idea; turn them into bird or squirrel houses by decorating them with seeds and peanut butter!

A quick internet search assured us that we were not the first to dream this up. There were numerous tutorials on turning gingerbread houses into bird treats, with tips and tricks, such as using sunflower seed butter so that folks with peanut allergies can participate. Another tip urged us to put the gingerbread houses together ahead of time, to allow them time to cure and stick together before decorating.

Flash forward a few weeks; I'm standing in the multi-generational room at the CLC YMCA in Damariscotta, with a group of volunteers and my colleague Amy, trying to instruct them on how to put together these little gingerbread houses. You see, each kit didn't contain just one gingerbread house, but four tiny houses! Putting them together was an exercise in patience, and a sense of humor was a must. We had many buildings cave in on themselves, and no one was winning any awards for perfect construction.

After a few hours, we had over 140 gingerbread houses assembled, which were set aside for decorating at the CLC YMCA's Healthy Kids day. As expected, they were a hit with the families. Decorating them was a little messy, but the kids loved it. We also kept this product out of the landfills, so it was a win for everyone.

That being said, we still have a few gingerbread houses left that we are hoping to give away. We've sent them to childcare centers across Lincoln County, but there are always smaller childcare centers that sometimes get missed, so please send along suggestions. You can reach me at jbreithaupt@healthylincolncounty.org, or call/text 207-350-0536.