January 27, 2023
Project Sticker Shock Returns to Damariscotta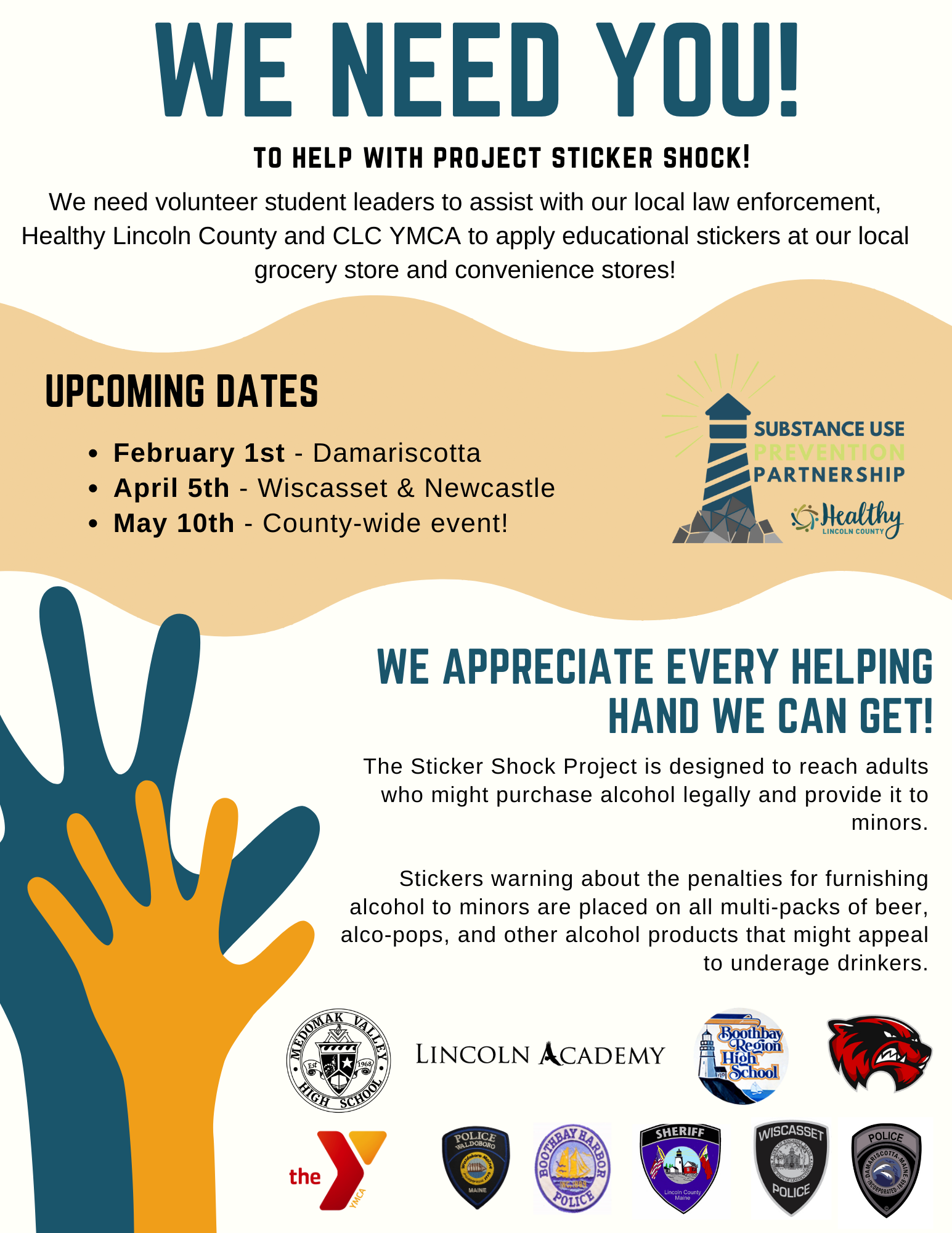 Project Sticker Shock

On February 1st, students from Lincoln Academy, along with officers from the Damariscotta Police Department, the CLC YMCA, and substance use prevention coordinators from Healthy Lincoln County will spend the afternoon placing thousands of bright orange stickers on packs of alcohol at five local retailers in Damariscotta.
They do this as part of an effort called "Project Sticker Shock" which aims to prevent underage drinking. Sticker Shock is sponsored by the Maine Office of Substance Abuse & Mental Health Services and aims to reach individuals over age 21 who legally purchase alcohol and provide it to a minor. A team of youth, accompanied by adult chaperones and local law enforcement officers, will visit stores to place stickers on beer and other appropriate alcoholic beverages. The stickers are designed to remind adults who might purchase alcohol and then provide it to minors, which can result in fines up to $2,000 and possible jail time.
The results of recent local youth substance use assessments show that over half of Lincoln County high school students think it would be easy to get alcohol if they wanted it, according to the Maine Integrated Youth Health Survey.
Project Sticker Shock is sponsored by the SUPP Coalition (Substance Use Prevention Partnership) with support from Healthy Lincoln County and the CLC YMCA Teen Leaders Club. The February 1st event is being coordinated by Teen Leaders Liam Card and Emily Gifford, both of whom are students are Lincoln Academy.

Any retailers who are interested in being a Sticker Shock site for future events in 2023 can contact Healthy Lincoln County at 207 622-7566 x 256.

About Healthy Lincoln County:
Healthy Lincoln County (HLC) is a non-profit, community health organization that brings together partners to ensure the residents of Lincoln County have equitable access to health. HLC focuses on a number of strategies to support community health including substance use prevention, tobacco-free living, nutrition and food security, active living, and mental health.