January 13, 2023
Amy's First Food Delivery Day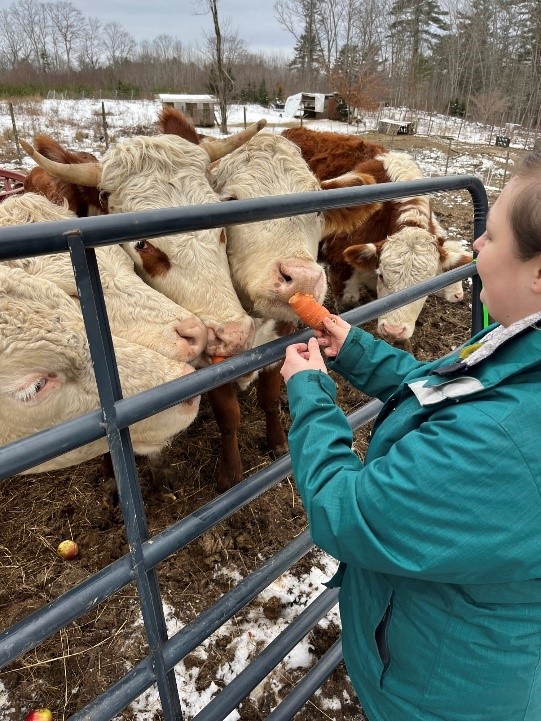 Meet our new Program Assistant Amy!
First, let me introduce myself – I'm Amy Bedard and I am the new Program Assistant at Healthy Lincoln County! My role will be to assist with the Substance Use Prevention and Food Insecurity programs. I have a background working in mental health, and I'm very excited to be in this role assisting with multiple programs in Lincoln County. With this post, and hopefully posts in the future, I'll talk about my first experiences while in my first year with Healthy Lincoln County, while also highlighting the important work that Healthy Lincoln County is providing.
To start, I had my first delivery day with Jess, the Food Security Community Connector. We started at the Wiscasset Food Pantry, greeted by smiling faces (and cute dogs!). They had food boxes prepared and ready for people. Jess and I loaded the van with the boxes, then headed to the Twin Villages Foodbank Farm Community Hub in Damariscotta, where Jess stores additional food and supplies. We picked up another load of crates and boxes, and we were off to our first delivery. We delivered to seven people today, and while talking with Jess she pointed out that when she started doing deliveries there were three people to deliver to. While that doesn't seem like a huge impact it makes all the difference for these individuals who, without Jess's help, would not be able to get to the food pantry on their own, and would go without food until they can find other means. Jess is able to make connections, and this helps her to reach more people in the community that may need the additional help. Not only did we deliver to 7 individuals we also delivered to Morris Farm. They offer a free food pantry, often stocked with canned goods and refrigerated produce. We were able to stock them up with some more produce, canned goods, and some refrigerated items.
After our deliveries, we make a stop to the Switchback Farm in Nobleboro. Jess brings compost and produce that is beginning to go bad, and feeds pigs and cows! This is a huge help for farmers and helps with preventing food waste. This also allows the food pantries a better solution to throwing away bad produce – it's good for someone, and it was a lot of fun.
This was a great first trip with Jess, and I'm excited to see and learn more about the initiatives that Healthy Lincoln County offers to the community while I work through my first year!